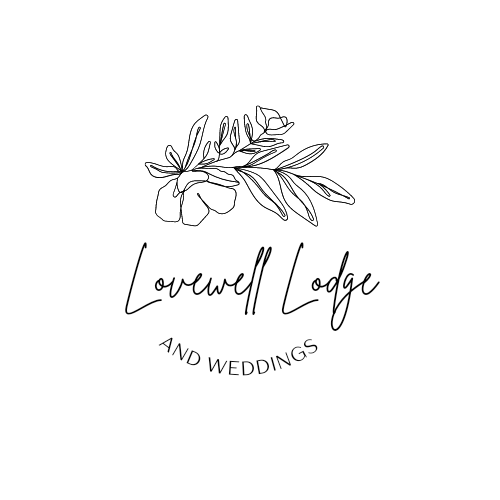 Our vision at Lovewell Lodge and Weddings is to provide a unique, relaxed atmosphere where you will make memories to last a life time.
The Pavilion is an open air space that is partially enclosed, with hand crafted barn doors on our large windows.
The doors can be shut during rainy weather.
The pavilion walls are made of rough cut lumber, with beautiful lighting, vintage mirrors and wall hangings.
Creating the perfect rustic ambience for you and your guest to enjoy.
There are multiple electrical outlets inside, ceiling fans and for those chilly evenings, we have two large
patio heaters.

In case of rain, our Pavilion works beautifully for both ceremony and reception.
Our View. Well, it's breathtaking and you must see it for yourself.

The Lodge is a charming cabin with an open floor plan upstairs. It can be used for the brides needs the day of the wedding and as a honeymoon suit for the bride and groom on their wedding night.
Our Wedding Season starts in May and goes through late October.
Our Max Capacity is no more 140 including bridal party.

Our Package Includes:
16- 60" round tables
140- white folding chairs
2- rustic round spool tables to be used for the cake or gifts.
4- 6ft. rectangle tables
The property for your rehearsal from Friday at 3:00 p.m.- 8:00 p.m. and Saturday from 9:00 a.m.- 11:00 a.m. Sunday.
The cabin for the brides needs and overnight stay for the bride and groom Saturday night, the ceremony and our pavilion for reception.
Total Guests-140 (including bridal party)
All for $4,000 (tax included)
To reserve your date please complete and sign our contract with 1/2 of the wedding package amount of $2,000.00. Your final payment of $2,000.00 is due 30 days prior to your event.
Want something less expensive?
Get everything listed above with NO overnight stay for $3,600 (tax included) To reserve your date complete and sign our contract with 1/2 of the wedding package amount of $1,800.00. Final payment of $1,800.00 is due 30 days prior to your event.
If you rent the cabin for overnight stay, please provide your own towels/ wash cloths and pillows. Bedding such as sheets and blankets are provided.
For a reception only package, please contact us for pricing.
For a One day only package click on the one day only tab in menu bar.
At no extra cost, we will have the tables and chairs set up for your event on Friday.
During your planning process please feel free to reach out with any questions you may have.
We do recommend you to have someone (a friend or family member) direct your wedding or hire a day of coordinator. We are happy to meet with you prior to your wedding day to help answer questions on how your day should go.
You may use any vendor's such as caterers, photographers, florist etc. that best suit your needs and budget.
After you sign a contract with us, we are happy to provide you with a vendors list of vendors that we have worked with at our property.
*Tablecloths are not provided but we do provide you with a website you can order them from at a very affordable price.
Please contact us at anytime to set up a showing of our place!
Photo by owner of Lovewell Lodge... The Pavilion for reception or can be used for ceremony as a rain plan.