Wedding Questions you may have: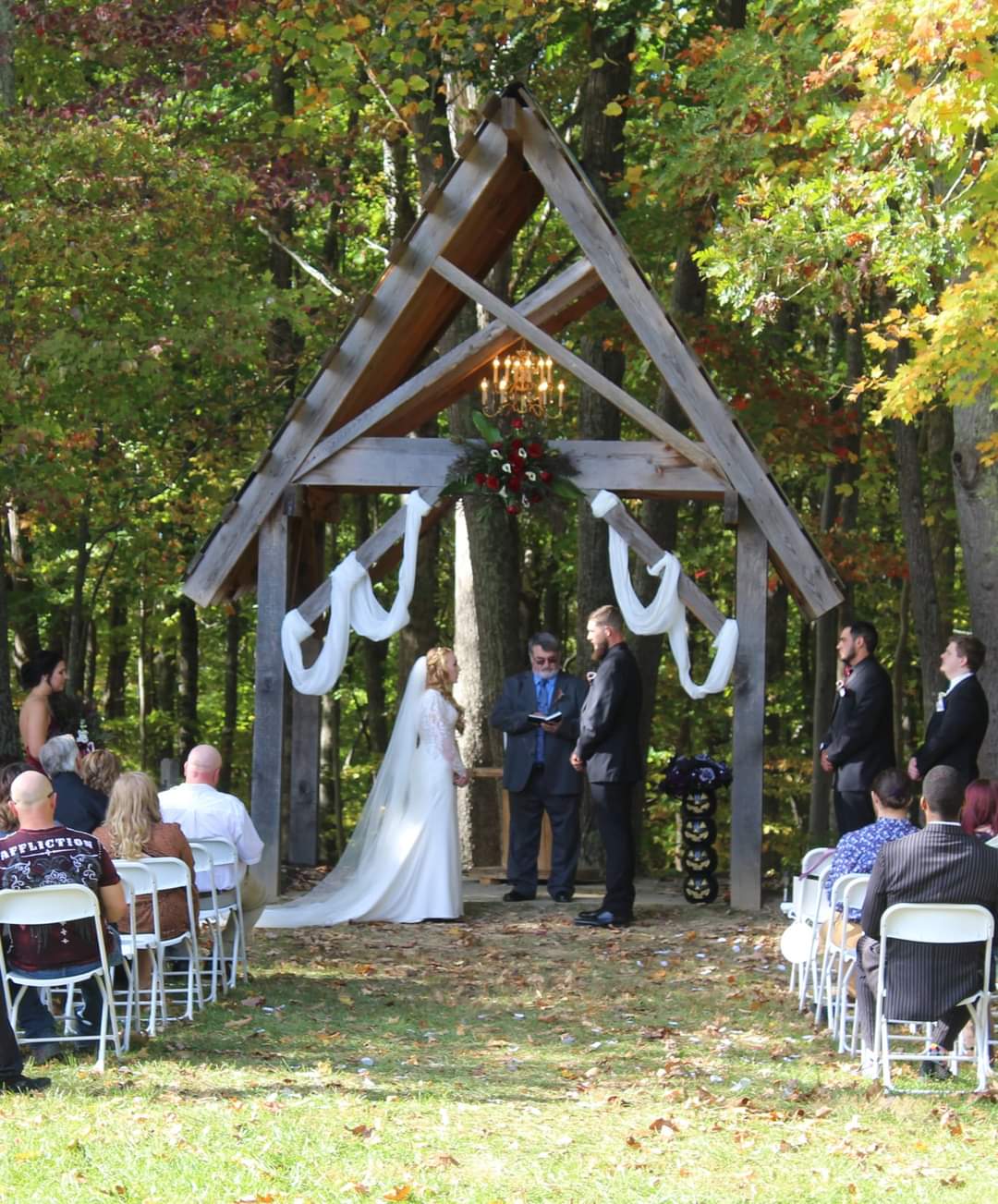 Photo by owner of Lovewell Lodge

How long do we have the venue & property for?
From Friday at 4 p.m.-8 p.m. Saturday 9am - Sunday at 11:00 a.m. If you are doing the $3,800 package, this includes over night stay in our cabin Saturday.

From 4 p.m. to 8 p.m. for rehearsal on Friday and from 9 a.m. to 11 p.m. Saturday for $3,400
Prices are the same regardless of what day of the week you want to get married.
Do you allow alcohol?
Yes, we allow "soft" alcohol beer & wine.
Do we need an Virginia ABC license?
Yes, it is your responsibility to get a Virginia State ABC license. You can get this online or speak with your caterer about supplying alcohol for your event. You must have proof of the license prior to your event.
* No glass bottles, or glass cups for guest. You may have wine bottles on tables for guest, a wine station where guest serve themselves or a bartender. You may use glass for your toast if you choose to have one. We prefer for guest not to have glass in case it gets broken on the property.

Can we decorate with glass vases, jars, etc.? Yes

Can we have open flame candles? Yes, as long as they are in a container or holder to catch dripping wax. Ex. tea light candles or votive candles are fine.
Who sets up for the event?
On the day before your event we will set up the tables for the reception and the chairs for your ceremony. Once things are set up you are more then welcome to move things around how ever you like. Please know we do set up the Pavilion to give you the most space for you and your guests.
Is there enough chairs for the ceremony and for the reception?
No, we have 140 chairs total. Our chairs are light and easy to move. Guest usually carry them to the Pavilion themselves, but we are happy to help.
Are there restrictions on vendors? (caterers, florist, photographer etc?) we can use? No, use who ever suits your needs best. We will provide you with vendor's information that have been to our venue. Along with information for tablecloths at an affordable price. This information will be provided when we recieve your deposit and signed contract.
Are there decorations provided? Everything our package includes is on this website under weddings. You provide your own decorations. Less is always more. Let the beauty of the surrounding area speak for itself. While decorating please do not use nails, but tacks, twine & double sided tape is fine.

Is there a curfew for music and guests? Yes, the reception must end NO LATER then 11:00 p.m.
Are there bathrooms for guests? Yes
Is our property handicap accessible? Yes

Our Cabin has a ramp, but please keep in mind our venue is rustic and located on a mountain. The lay of the land is uneven in certain area's.
Is there help the day of the wedding?
We are there before your wedding starts, checking bathrooms, wiping chairs if needed and over seeing things such as parking etc. You will need someone to direct your wedding the day of. We are happy to meet with you at the venue before the day of your event if you need help with line up of your bridal party etc.
A Planning tip: Provide your DJ with a time line of how you would like things to go. First dance, Father/daughter dance, Mother/ groom dance, cutting of cake. Remember you hired your vendors, trust their expertise.
Whose responsible for clean up?
You are. After your event it is your responsibility to clean up all decoration's and trash. All trash must be placed in trash cans provided but WE will depose of all trash on the property. (Friday night receptions trash must be taken off that night) The Cabin will need to be cleaned as well. All we ask is for you to leave the property the way you found it.
Please feel free to contact us at anytime during your planning process. At Lovewell we want to be as helpful as possible. We are just a phone call or email away.